XFINITY Theatre | Hartford, Connecticut
The explosive team-up of Young Thug & Machine Gun Kelly in a tour de force that would take them in different key cities and states sent out a big blast of thrills among rap and hip-hop fans out there. One of their much-anticipated stops is at the Xfinity Theatre on Friday 11th October 2019. Young Thug's rough, tough, and eccentric beats, plus Machine Gun Kelly's fiery and furious grooves make for an unstoppable emission of rabid live entertainment. Lock-it and load-up on tickets before they run out. Grab this hot ticket right here, right now!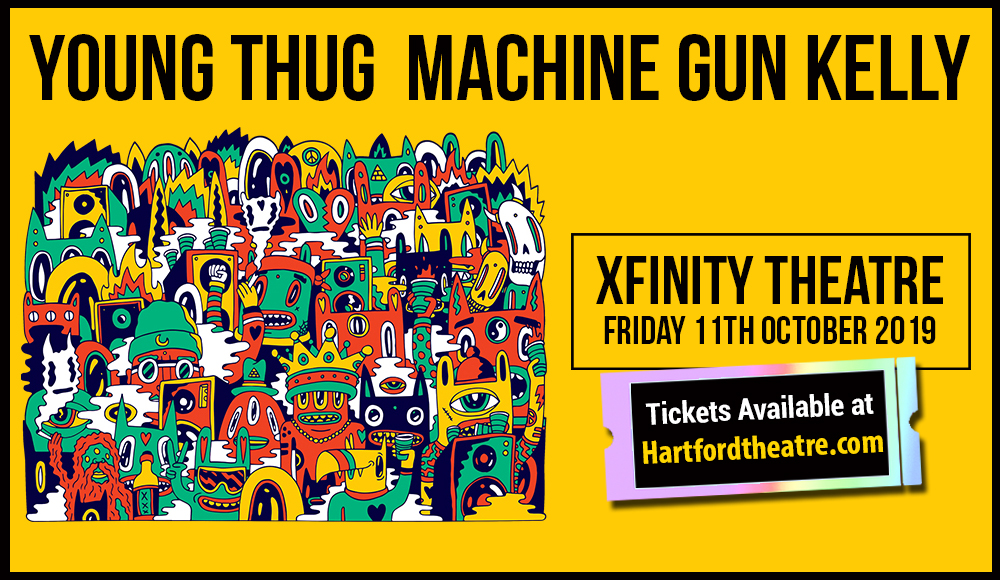 Young Thug is one hip-hop artist who can readily seize one's attention. "Unique" is rather an understatement and "weird" is quite inadequate as adjectives to describe his style. Critics and the press have tried to describe and define his eccentricities as:
"in a typical Young Thug verse, he slurs, shouts, whines and sings, feverishly contorting his voice into a series of odd timbres like a beautifully played but broken wind instrument." — The Fader
Pitchfork called his style "extraordinarily distinctive" and "a weird, experimental approach to rapping" while praising his "presence, persona, mystique, and, potentially, star power."
But fans are all ears to his music. His 2015 single "Best Friend" has gone platinum, while "pick up the phone" peaked at 43 on Billboard's Hot 100. Then came the monster hit "Havana," a collaboration with Camila Cabello that would top Billboard's Hot 100 in 2018. And yes, he pocketed two major Grammy Awards for both Record & Song Of The Year for "This Is America", at the 61st Annual Grammy Awards.
An equally irrepressible rapstar on the rise is Machine Gun Kelly. He has fired an ammunition of hits with "Wild Boy", "Invincible", "Stereo", and "Hold On (Shut Up)", propelling his debut album at number four on the US Billboard 200 chart. In early 2015, he released the singles "Till I Die" and "A Little More" for his second studio album, General Admission, which debuted at number four in the US. The album incorporated darker tones, rap rock, R&B, and storytelling. His third studio album, Bloom, was released on May 12, 2017, preceded by "Bad Things" with Camila Cabello, peaking at number 4 on the Billboard Hot 100, his highest charting single. Machine Gun Kelly also fires-up the silver screen as a movie actor. He debuted in the 2014 romantic drama Beyond the Lights. Recently, he was one of the leads in two major Netflix releases, Bird Box and the Motley Crue biopic, The Dirt.
This is a hot ticket, but you can grab and get your hands on it while you can! Book those tickets now!