XFINITY Theatre | Hartford, Connecticut
"Marilyn Manson back on tour with Slipknot again probably just made God call the suicide hotline," said Manson on Instagram. "No other truly dangerous people own the stage these days, so I figured we would save him the trouble."
Oh yes, metallers, Slipknot & Marilyn Manson are joining forces once more and they're heading to Xfinity Theatre on Friday 8th July for a night of anarchy, debauchery and carnage! The masked menaces and self-proclaimed "God of F***" will be putting on the biggest metal event of the year – no holds barred! Make sure you're a part of the pandemonium!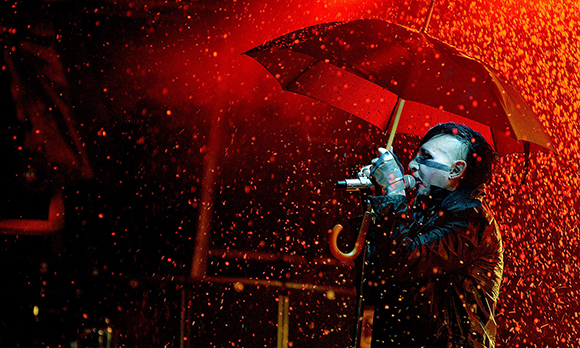 American hard rock band Marilyn Manson first appeared in 1989 in Fort Lauderdale, Ohio. Controversial from the very beginning, the band were noted for using stage names, that were created by combining the first name of an iconic female sex symbol and the last name of an iconic serial killer (e.g., Marilyn Monroe and Charles Manson), and were used to represent the dichotomy of the co-existence of good and evil in everyone. They are known for their eccentric makeup and costumes, for courting controversy with outlandish behaviour both on stage and off, and lyrics that reference sex, violence and drugs. The band were discovered by Nine Inch nails front man Trent Reznor in 1993, and he offered Marilyn Manson a contract with his new label and the opportunity to support Nine Inch Nails on their upcoming headlining tour, which lead to the release of the band's first studio album, Portrait of an American Family. The band's lineup has changed many times throughout the years; the current members of Marilyn Manson being the eponymous lead singer (the only remaining original member), bassist Twiggy Ramirez, guitarist Paul Wiley, keyboardist/percussionist Daniel Fox, and drummer Gil Sharone. Marilyn Manson has garnered much success over the years: in the US, three of the band's albums have been certified platinum while three more were certified gold, and the band has seen eight of its releases debut in the top ten, including two number-one albums. To date, the band has sold over 50 million records.