XFINITY Theatre | Hartford, Connecticut
Expect the outrageous as Rob Zombie & Marilyn Manson come to Xfinity Theatre on Saturday 11th August 2018 for the Twins of Evil: The Second Coming Tour! Named in reference to the infamous 2012 tour that saw the co-headlining shock rockers hit the road together for the first time, this stint promises a wild ride!
A statement on Zombie's website said: "They said it couldn't happen again! But never say never – the Twins Of Evil are back this summer for a co-headliner tour.
"Yes, Rob Zombie and Marilyn Manson are heading out on tour again to bring their unique brands of showmanship to audiences across North America."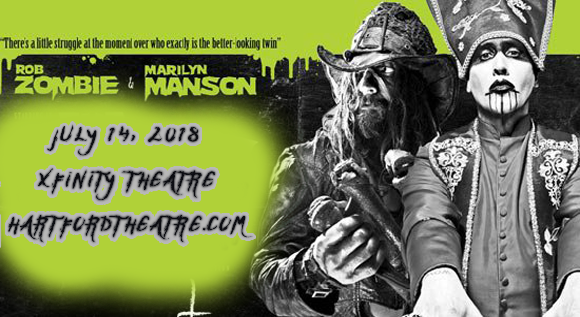 One of heavy metal's most controversial and iconic bands, fronted by one of heavy metal's most controversial and iconic figures (and the band's namesake), Marilyn Manson are an American rock band formed in Fort Lauderdale, Florida in 1989. Originally known as Marilyn Manson and the Spooky Kids, the band earned a cult following locally, becoming known for outlandish outfits and shocking on and off-stage antics. They were soon signed to Trent Reznor's Nothing Records label in 1993 (the first band to do so) and both the band's popularity and the controversy surrounding them continued to grow. The band has had eight releases debut in the top ten, including two number-one albums, with three platinum-selling releases and three certified gold.