XFINITY Theatre | Hartford, Connecticut
Dominating airwaves for feelin' like a rockstar, the one and only Post Malone is back in the game as he launches his newest album "Austin", following up last year's highly-anticipated "Twelve Carat Toothache". Wrapping up the European leg of his last album's supporting tour, the man is heading back to the U.S. for a 24-date 'IF Y'ALL WEREN'T HERE, I'D BE CRYING' Tour. Two tracks in, "Chemical" and "Mourning" gave fans a taste of what kind of hard-hitters to expect from the new dad, telling tales of life's highs and lows through drinks and morning afters. Sharing the new album's artwork, Post Malone is stoked to share the newest fun, most challenging, and rewarding record he's ever made. As "Austin" is scheduled to hit the shelves on July 28th, you're in for an early preview of the man's newest era live on stage at Xfinity Theatre on Sunday, 23rd of July 2023. Don't miss out by booking your tickets now!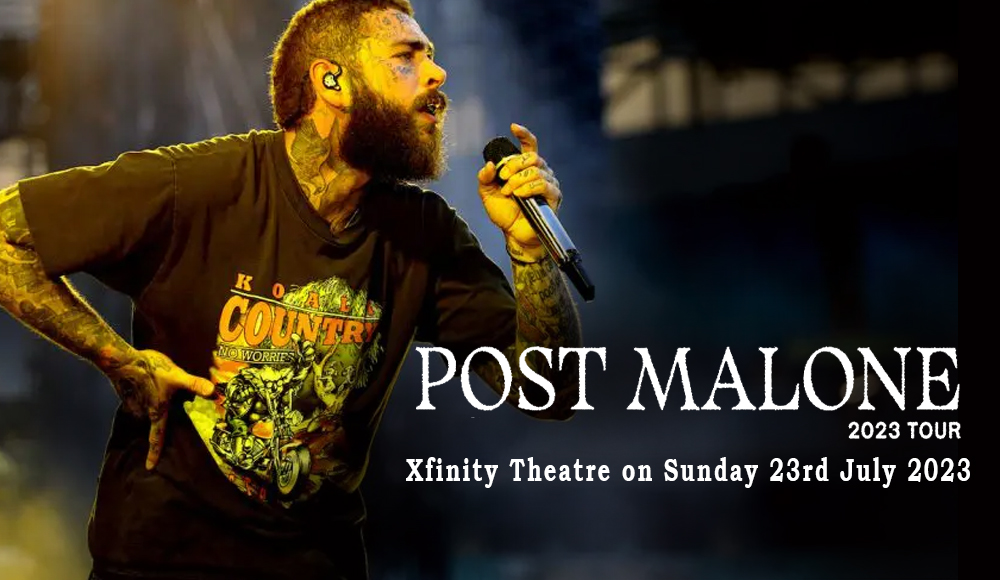 Seasons are changing as Post Malone launches a new era! Wrapping up his tour in support of his acclaimed comeback album "Twelve Carat Toothache", the man is dropping his newest album, "Austin" this July 28th. Penned after his real first name, Post Malone is taking his music reflective of his roots and life's ups and downs. Sharing "Austin" is a record that he's had the most fun with, it was both challenging and rewarding for the musician to produce. Set to dominate airwaves, the man is hopping on a brand new tour, and he'd be crying if you aren't there. The 24-date 'IF Y'ALL WEREN'T HERE, I'D BE CRYING' Tour kicks off this summer.
"This whole deal has been one of the most challenging, rewarding, and exciting records I've worked on," Post Malone wrote as he shared Austin's album cover. With new singles "Chemical" and "Mourning" out and about, hard-hitters and introspective tales can be expected from the album as he sings through life's good and bad, across late nights and morning afters.
"I feel it captures who I am as a man and as an artist in this moment," he added. "Thank y'all so much for your patience, and thank you for being there with me in my hardest times. I love y'all so much, and am ready to fucking party with y'all. Cheers, and keep spreading love."
Wrapping up the Twelve Carat era and launching "Austin" in its entirety this summer, Post Malone is set to keep the party going as he celebrates being a new dad while continuously serving his striking lyrical tales live on stage. Overjoyed with his fans' continuous support, he's stoked to put out more shows in support of his new material.
"I love y'all so very much and I'm so excited to get out and do some more shows for y'all," he shared. "Help me put a baby through college and come on out. Some cool new production, new songs, and a very very handsome man up on stage. Sending love to you and yours."
Dominating the scene for his mature angst and striking hard-hitters, Post Malone's biggest hits and fan favorites include "Congratulations" featuring Quavo, "I Fall Apart", "Rockstar" featuring 21 Savage, "Goodbyes" featuring Young Thug, "Better Now", "Sunflower", "One Right Now" with the Weeknd, "Circles", "Cooped Up" featuring Roddy Ricch, and many more. Selling over eighty million records around the globe, the ten-time Grammy-nominated artist continues to dominate the scene for his honest lyrics over sick hip-hop beats that remain unmatched. As "Austin" makes its full release, we're definitely in for more servings of Post Malone's musical shots.
Don't miss out on the 'IF Y'ALL WEREN'T HERE, I'D BE CRYING' Tour live at Xfinity Theatre on July 23rd by booking your tickets now!