XFINITY Theatre | Hartford, Connecticut
Kings of improvisation Phish are bringing their varied and captivating show to Xfinity Theatre on Saturday 9th July as part of their annual North American tour! The jam band heroes never play the same set twice – taking you on a psychedelic journey of the senses with their weaving musical collaborations, stunning light shows and interactive antics! Known as one of the best bands in the world to see live, these Vermont legends will not disappoint!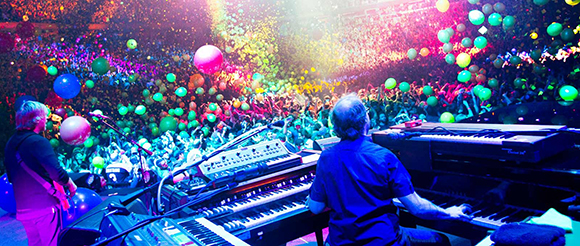 Phish are considered pioneers of the jam band movement, and are famed for their improvised music, lengthy jams, blending of musical genres, and devoted fan base. The band was formed in 1983 by Trey Anastasio and Jeff Holdsworth (both guitarists), bassist Mike Gordon and drummer Jon Fishman when they were at the University of Vermont. Page McConnell, a fan of the band, joined two years later, and Holdsworth left the year after that, following his graduation, leaving "Trey, Page, Mike, and Fish"—the lineup to this day. Although the band have released thirteen successful studio albums to date, (their first notable release being 1988's double album Junta), the live scene is where they made their home, quickly gaining a reputation for unusual covers, protracted collaborative sessions and audience interaction, helped by their gruelling tour schedule. Phish performed together for nearly 20 years before going on hiatus in August 2004. They reunited in March 2009 for a series of three consecutive concerts played in the Hampton Coliseum in Hampton, Virginia, and have since resumed performing regularly.