XFINITY Theatre | Hartford, Connecticut
Lynyrd Skynyrd fans, get ready for the band's biggest ever and final tour!! Entitled the Last Of The Street Survivors Farewell tour, the jaunt brings the band to the Xfinity Theatre on Saturday 14th July 2018!! No self-respecting fan can afford to miss this – be there!! Grab your tickets to see Lynyrd Skynyrd live NOW before they go!!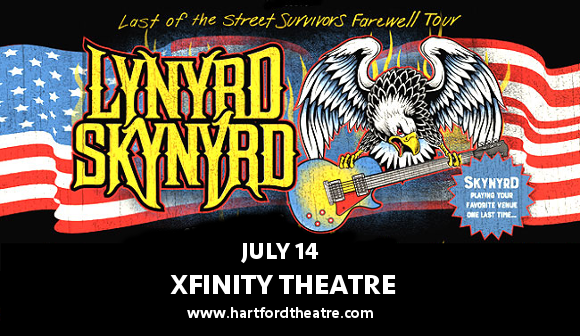 Marking the end of a glorious 45 years together, Lynyrd Skynyrd intend to go out in style. Kicking off May 4 at Florida's Coral Sky Amphitheatre, the tour will wrap up four months later on September 1at the Cellairis Amphitheatre in Atlanta, giving fans plenty of time to catch their favorite band live on their last ever tour!!
But Gary Rossington tells fans not to get too downhearted – the band won't be gone for good. "I know we're going to take some time off after this farewell tour that's all planned, and then who knows. Even, like, the Eagles and a lot of people retire for a year or two and they have to come back… It's just in your blood, y'know? So I don't know if it's really ever gonna end, but his is a plant to start to. Even if the touring ends we'll still do special shows and special guest things here and there with the whole band."
Get ready to be in the crowd of one of the most iconic events of 2018 – if you haven't got your tickets yet, hurry up and do it before the disappear!!