XFINITY Theatre | Hartford, Connecticut
Once again, Xfinity Theatre brings you the very best in music! But nothing can prepare you for this announcement as Kendrick Lamar, SZA & Schoolboy Q comes to leave you in awe on Thursday 7th June 2018! This guy always knows how to rock the stage with his chart topping singles, effortless flow and beats that will have you dancing til dawn! Here's your chance to see Kendrick Lamar, SZA & Schoolboy Q, the highlight of your year!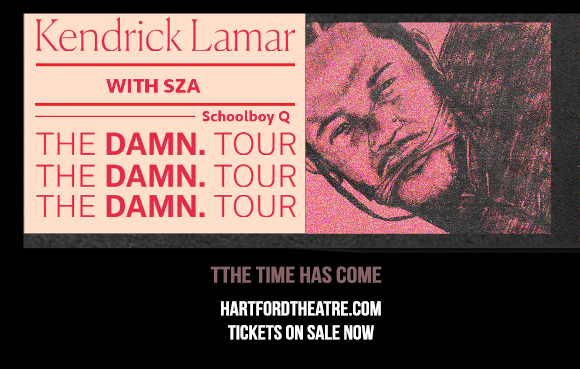 "This is an artist in his absolute prime: artistically, lyrically and musically."
"Much like the recent A Tribe Called Quest record, Damn. is a brilliant combination of the timeless and the modern, the old school and the next-level. The most gifted rapper of a generation stomps into the Nineties and continues to blaze a trail forward."
Kendrick Lamar doesn't need much of an introduction as he is continuing to smash the charts, reviews and more with his out of this world talent that has always and always will grab the attension of the masses!
2011, saw him release his first record – Section.80, and this helped to put him on the map with the huge track – "HiiiPoWeR". As his online following was growing rapidly, this talented guy was already establishing himself on the Hiphop scene by collaborating with some of the biggest and most well known artists in the hip hop industry, including The Game, Busta Rhymes, and Snoop Dogg.
This was just the beginning and in 2012 his career well and truly hit the big time!
Lamar's major label debut album, good kid, m.A.A.d city, took over anything that was happening at the time as so many music fans far and wide – around the world were sharing his music to their friends! At number two on the US Billboard 200 chart and was later certified platinum by the Recording Industry Association of America (RIAA). This gem of a record included the top 40 singles "Swimming Pools (Drank)", "Bitch, Don't Kill My Vibe", and "Poetic Justice".
With new releases since then and more exciting news on it's way – Kendrick Lamar is a must-see – grab your tickets online above today and get on down for the main event!!