Xfinity Theatre | Hartford, CT
A full force of girl power is coming this way. No, they're not on fight mode, but they're out give a whole lotta love. Heart, Sheryl Crow & Elle King plus female powerhouse guests and openers Joan Jett & The Blackhearts and Brandi Carlile, are taking on the touring route with the "Love Alive Tour". These women who have passionately poured out all their heart and soul to music that rocked our emotions have bonded together to bring their heart-pumping showmanship to the Xfinity Theatre on Saturday 20th July 2019. Expect a downpour of love as well as an uproar for tickets. With this all-superstar, line-up fans will stop at nothing just to get their hands on this red-hot ticket. Don't wait til the last minute, book your tickets now!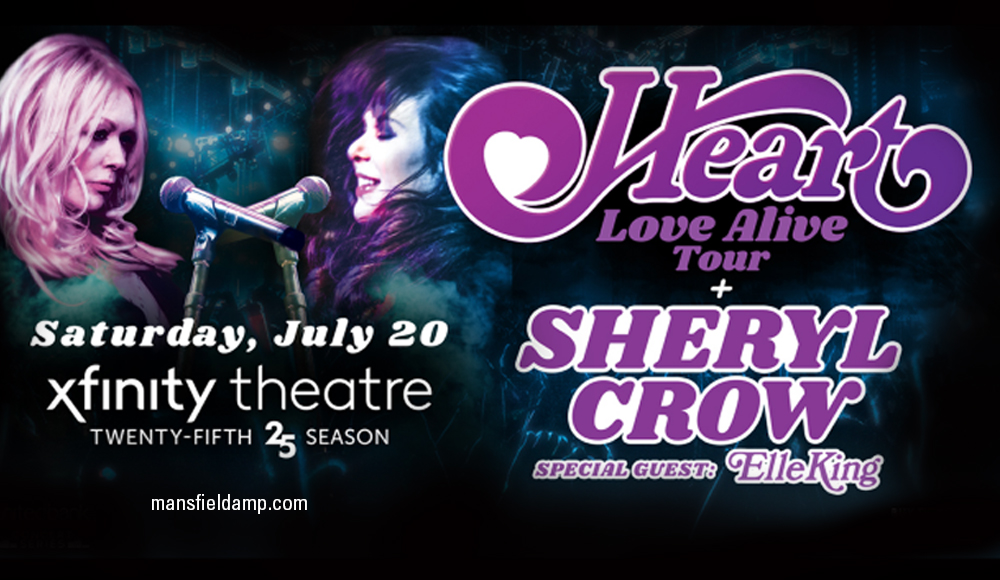 The "Love Alive" tour that brings together a fiery line-up of all-women rockers that includes Heart, Sheryl Crow & Elle King plus guests Joan Jett & The Blackhearts and Brandi Carlile, has a significant meaning to Heart's Ann Wilson. "'Love Alive' is a song and a sentiment that goes back a long way with us," says Ann. It goes forward too. It is a hopeful, positive and universal vibe like we feel this tour will be."
Sister act and rock duo Heart, composed of Ann and Nancy Wilson broke into the top of the charts with their smashing debut 'Magic Man' and 'Crazy On You'. The band had a string of success during the mid to late seventies. 1985 was the year when they validated their iconic female rocker and hitmaker status when the single "These Dreams" skyrocketed to the top of the charts worldwide. This feat was instantly followed up by the colossal hit single "Alone". From there, Heart was unstoppable, churning out hits such as "What About Love", "All I Wanna Do", "Never", and a whole lot more. They were one of the most consistent American bands to achieve top 10 billboard albums in the 1970s, 1980s, 1990s, and 2010s, and waging on with an induction into the Rock & Roll Hame of Fame in 2013.
Sheryl Crow is undeniably one of the most noteworthy rock-country superstars of all time. She started out as a back-up singer to pop superstars like Michael Jackson and Stevie Wonder. Then she got her songwriting break which gave her the opportunity to pen songs for Tina Turner and Celine Dion. Then when she landed another break, this time as a bonafide recording artist, she struck gold with her astonishing debut album and single "All I Wanna Do". From there, Sheryl Crow's career went full speed ahead as she collected nine Grammy Awards and has sold 50 million albums worldwide.
The youngest and most current artist to join the pack is Elle King. She is responsible for the hit single the "Ex's & Oh's". She is an energy ball on the live stage and is one of today's fastest rising stars.
Why an all-female line-up? Heart's Nancy Wilson strongly states: "I think this year is a good year to show the collective impact of some powerful women in music. We would usually steer clear of the female-centric concept, but in the light of current events, it seems like the right statement at the right time."
Don't miss the beat on this one. Spread the love and share the good vibes. Rally up the whole gang and catch the "Love Alive Tour".