XFINITY Theatre | Hartford, Connecticut
Game of Thrones Live Concert Experience comes to Xfinity Theatre on Wednesday 11th September 2019, bringing all the drama and pathos of the music of the Emmy Award-winning series to the stage for fans to relive the show's best musical moments! With THAT theme tune, the music of Game of Thrones is just as recognized as the show itself and the Game of Thrones Live Concert Experience gives fans the chance to enjoy it live with the help of stunning AV effects and a full symphony orchestra!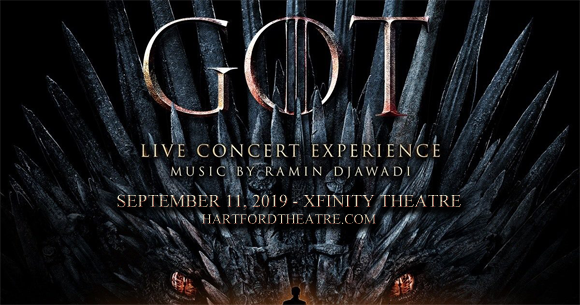 HBO's Emmy Award-winning epic fantasy series Game of Thrones is not only known for being a groundbreaking television phenomenon, but also for its dramatic and rousing score, composed by Ramin Djawadi (also known for the Grammy®-nominated score for Marvel's 2008 Iron Man, as well as Pacific Rim, Clash Of The Titans, Warcraft, Westworld, Flash Forward and Prison Break). As the series comes to an end, fans of the show can immerse themselves in the world of Westeros once more in this unique concert run that brings the music of Game of Thrones to the stage. Enjoy special adaptations of your favorite themes, performed by a choir and symphony orchestra, plus audio visual effects and projections, conceptualized staging and plenty of surprises.