XFINITY Theatre | Hartford, Connecticut
The Dixie Chicks are the best-selling female band of all time in the US and they're returning to the public arena for the first time in two years on their DCX MMXVI Tour! The 13 time Grammy Award-winning band comes to Xfinity Theatre on Friday 17th June to thrill audiences with their politically conscious country and intricate, sublime harmonies!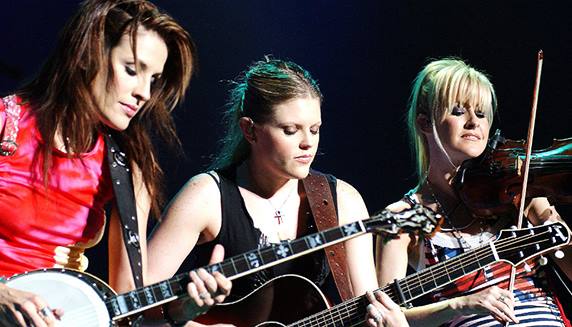 With over 30.5 million certified albums sold, and sales of 27.4 million albums in the US alone, the Dixie Chicks are recognized as being the top selling all-female band and biggest selling country group in the US of the Nielsen SoundScan era (1991 to the present day). Formed in Dallas in 1989, Texas, the Dixie Chicks started out busking bluegrass and country songs. Original members and sisters Martie Erwin Maguire and Emily Erwin Robinson were part of a four-piece that toured small bluegrass venues and festivals for years without attracting any major label attention. 1995 brought a new angle for the band, with one member leaving, and the lead singer being replaced by Natalie Maines. This change of line-up, coupled with a more commercial look and sound, lead to mainstream success for the Dixie Chicks. In 1998 their debut album, Wide Open Spaces, set a record for the best-selling duo or group album in country music history with initial sales of 12 million copies in the country music arena alone, making it an RIAA-certified diamond album, and that year the Dixie Chicks sold more CDs than all other country music groups combined. To date, the band have won 13 Grammy Awards including five in 2007 for their album Taking the Long Way and "Not Ready to Make Nice", a single from that album.