XFINITY Theatre | Hartford, Connecticut
Breaking Benjamin fans, are you ready for this?? Your favorite band returns once more in 2019 in support of their latest album "Ember" – and as if that wasn't enough, they're joined by Three Days Grace, also on tour with a hot new release!! They're coming to Hartford for what promises to be an incredible performance at the Xfinity Theatre on Friday 2nd August 2019 – be there!! Tickets are on sale NOW and likely to disappear FAST – get 'em while you can!!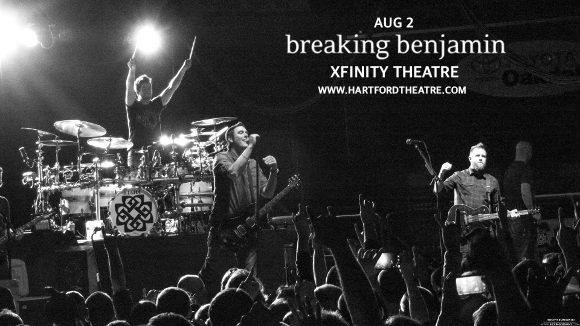 The latest album, written with the latest Breaking Benjamin lineup of singer and principal songwriter Benjamin Burnley, bassist Aaron Bruch, guitarists Keith Wallen and Jasen Rauch, and drummer Shaun Foist, was Breaking Benjamin's first to depart from the original method, which involved singer Benjamin Burnley writing all of the material for the project (and essentially being the band's only member.)
"Those guys wrote a lot on the album," Benjamin Burnley reflected. "There are some songs I didn't write any of the music to. So we wrote a lot of things together, they wrote things on their own, and I wrote things on my own – so it was a nice mix of everything… It's just a lot of work for one person to do. After a while it kind of starts to take the enjoyment out of it a little bit. I found that it was easier to be creative when it was fun. When you have a ton of work to do it takes the fun out of it."
Who's excited to see the reinvigorated, freshest version of Breaking Benjamin giving it their all live in concert?? We sure are!! Make sure you've got those tickets, and we'll see you at the show!!