XFINITY Theatre | Hartford, Connecticut
Country lovers, we've got some massive news for you!! The reigning superstar Brad Paisley returns in 2019, with a new single and album waiting in the wings! Featuring special support from Chris Lane and Riley Green, he's headed to the Xfinity Theatre on Thursday 29th August 2019 – make sure you're there!! Get your tickets today – and hurry, they're not expected to last very long!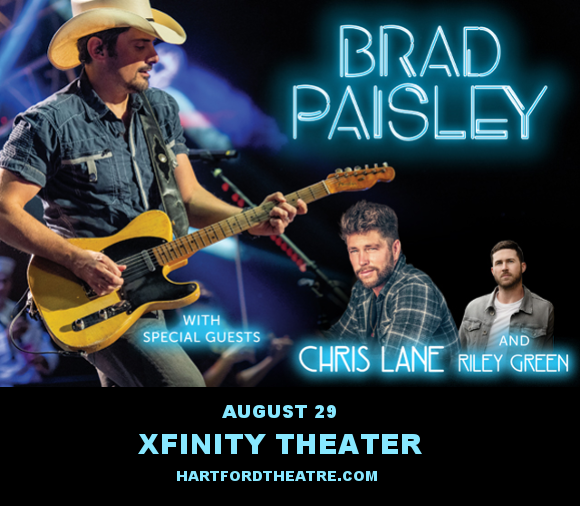 Over his long career, Brad Paisley has had no shortage of incredible achievements to his name, with an astonishing 32 singles hitting number one and a series of sold-out tours around the world. His latest single "Bucked Off," is a fun song using the rodeo as an analogy for dating and breakups, providing a taste of what to expect from his new music to come. "I came of age during the golden era for us, which was the late '80s, early '90s, and that time period … you had so many different things on the radio, but one of the things that was kind of consistent was the rodeo songs — the metaphors and the analogies to that way of life. And I realized as I was writing songs for this new record, I've never done one of those."
If this is what Brad Paisley's up to at the moment then we can hardly wait to see what he's got up his sleeve next – can you?? No?? Then get your tickets NOW and get ready to sing along with all the hits and hear some surprises live too!