Xfinity Theatre | Hartford, CT
Logic fans, get excited!! The rapper is back with his latest mixtape "Bobby Tarantino II," and a HUGE North American tour promoting it! He's joined on the road by rising hip-hop stars NF and Kyle!! They're on their way to the Xfinity Theatre on Sunday 10th June 2018 – be there!! Hit that "Buy Tickets," button now and snap yours up while they last!!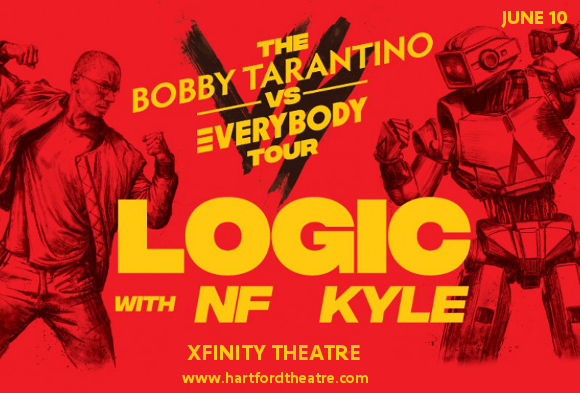 Logic's big tour comes shortly in the wake of the release of "Bobby Tarantino II," the hot new mixtape that became his second album to top the Billboard 200 charts. Featuring collaborations with artists including Marshmello and 2Chainz, it's one of Logic's biggest projects yet.
In an interview, Logic suggested that his album "Ultra 85," set for release in the future, might well be his last album as a musician. "I just want to end everything with a really big bang and get the fuck out of here," the rapper said. "Better to go out while on top like Jerry Seinfeld: nine seasons, number one fucking show in the world, over a billion dollars. I'd rather do that." So it's not clear how long Logic might remain on the road after that – this could be one of your last opportunities to catch him live!!

Don't miss out – grab your tickets to see Logic NOW while you still have the chance!!